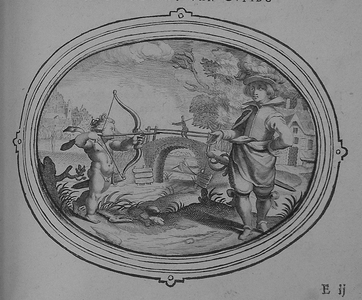 Idalius puer ille meo de pectore nunquam
Evolat. hei! pennas perdidit ille suas.
Die my geschoten heeft, al is hy kleyn van leden,
Zijn hant is wonder vast, hy maeckt een groote wondt,
Hy neemt de sinnen vvech. den brandt die sinckt beneden
Tot aen het diepste merch, tot aen des herten grondt.
Hy herbercht self in my, hy heeft my ingenomen,
Hy volchde zijnen pijl als hy de vvonde gaf.
Nu blijft hy altijdt vast; vvant doen hy is gekomen
Geslopen in mijn hert, sijn vleugels vvaeren af.
Il n'est charme, des daings, ni reproches cruelles
Qui puissent de mon cœur desloger ce meurtrier
Car quand il me saisit il se brusla les aisles
Ma dame dans tes yeux ou ie le vis premier.

References, across this site, to this page:
No references to this emblem or page found.