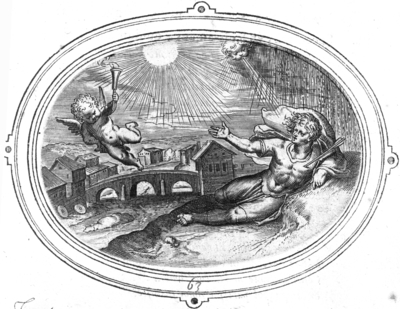 124 ↓

125 ↓


Translations
| | |
| --- | --- |
| | Elke minnaar is ongelukkig. |
| | |
| --- | --- |
| | Every lover is unfortunate. |
Tibullus, Elegiae 2, 6, 15-18.

Gemene Amor, laat mij ooit uw pijl en boog, uw wapens, gebroken zien, als dat eens kan, uw fakkels uitgebrand. U kwelt mij met ellende, dwingt mij onheil af te roepen over mijzelf, in dwaasheid uit te spreken wat niet mag. [tr. J. Nagelkerken, Baarn 1994, p. 66.]
Tibullus, Elegiae 2, 6, 15-18.

Fierce Love, if this could be, I would see your arms destroyed, your arrows broken and your torches quenched. You rack me with anguish, you force me to curse myself and in impious speech to vent the frenzy of my soul.
References, across this site, to this page:
No references to this emblem or page found.