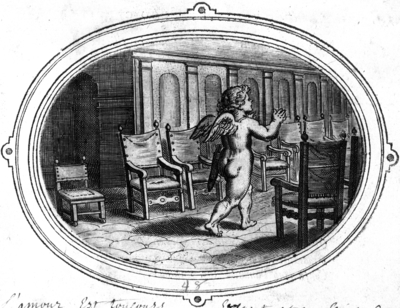 94 ↓

95 ↓


Translations
Ovidius, Ars amatoria 3, 436

Hun liefde dwaalt rond en heeft geen vaste woonplaats.
Ovidius, Ars amatoria 3, 436

Their fancy wanders and has no fixed abode. [tr. J.H. Mozley, Loeb, p. 149]
| | |
| --- | --- |
| | De hartstochtelijke en rusteloze minnaar bedenkt van alles; hij brandt en blijft op geen enkele plaats rusten. |
| | |
| --- | --- |
| | The passionate and restless lover thinks of everything, he burns and does not stay at any place. |
Plautus, Mercator 588-590

Ben ik niet beklagenswaardig, dat ik nergens vrede vind? Ben ik thuis, ik snak naar buiten, ben ik buiten, 'k wil naar huis. Zulk een brand heeft in mijn borst en hart de liefde aangericht. [tr. J. Hemelrijk, Baarn 1992, p. 544.]
Plautus, Mercator 588-590

Oh, I am miserable! I can not be comfortable anywhere! If I am at home, my thoughts are out; and if I am out, my thoughts are at home! Such flames of love as my heart and breast are in!
References, across this site, to this page:
No references to this emblem or page found.