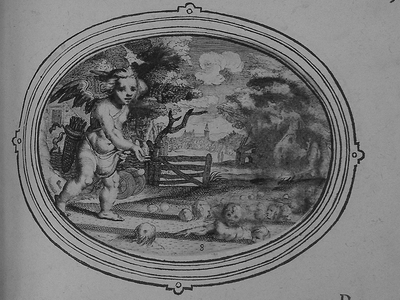 Indolis eximiæ quis semina nescit Amoris?
Hinc gnarus diæ Pallados exit homo.
Siet Venus zaeyer aen. hy gaet zijn saet uytspreyden
De vveerelt om en om, gelijck een lantman doet.
Het saet komt vveder voort, en sonder lang te beyden
Geeft vrucht op zijnen tijdt, die d'aerde vveder voet.
De vruchten die het brengt, die zijn begaeft met reden,
Met vvijsheyt en verstant, en vvonderlick van aert.
Die vruchten houden op de landen en de steden.
Wijst my noch eenen boer die sulcke vruchten gaert.
Celui qui pour tous biens n'a qu'vn coing de bruiere,
Fut dans le champ d'amour autresfois anime;
Et cil pour que Phoebé redoubla sa carrire
Fut de la mesme main en ce monde semé.

References, across this site, to this page:
No references to this emblem or page found.