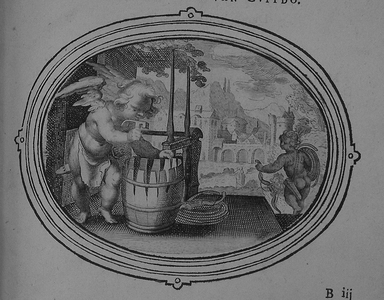 Parve victor, Amor: sic perge. & vasa manebunt
Salva: nec humanum concidet omne genus.
Kuypt kleyne kuyper kuypt, die alle man doet buygen,
En treft met u gewelt, en voeget al aen een.
Want waer het zonder u, de weerelt viel in duygen,
Die nu behouden wordt van u, en anders geen.
V vader is een smit, een koppelster u moeder,
Ghy maeckt de hoepen vast, van hemel en van aerdt.
Het ambacht dat is goet. want ghy zijt den behoeder,
Die s'weerelts groote ton van onderganck bewaert.
Poursui petit ouurier par ce penible ouurage,
D'assembler en toneaux ce planchage divers:
Ainsi bien a propos d'un divin assemblage,
Tu sçais en son entier maintenir l'vniuers.

References, across this site, to this page:
No references to this emblem or page found.