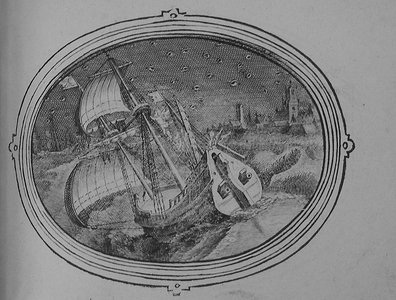 Quid pelago in magno ac tenebroso Castora quæris?
Non stellæ, ast oculi sunt in amore duces.
De baeren van de zee tot aen de locht gedreven.
Bestormen vreesselick het schip dat ghy hier siet:
Het helt, het vvijckt, het sinckt, de schippers selve beven,
En hebben nu het roer niet meer in haer gebiedt.
Den hemel is becleet met vvolcken en met vvinden,
De nacht is over al, het licht is al vergaen.
In dese duysternis sult ghy noch hope vinden,
Soo ghy maer aen en siet die oogen die daer staen.
Mon nauire fait eau, ma voile se rebourse,
L' a nuict de tous costès me desrobbe les cieux,
Et si en ce perilie n' ay recours a l'Ourse,
Mais ie pren le chemin, ou m' addressent tes yeux.

References, across this site, to this page:
No references to this emblem or page found.