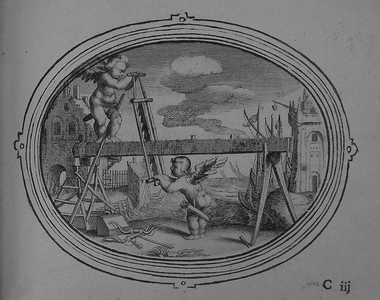 Non satis est fastus semel aut maledicta tulisse:
Assidue, ut vincas, hæc repetenda tibi.
Die in Cupidoos perck begonnen heeft te jaegen,
Blijft altijt op het self: de vreucht komt naer de pijn,
De pijn komt naer de vreucht: gelijckervvijs die saegen
Dan met het lijf om leeg, dan vveer om hooge zijn.
Men gaet, men loopt, men komt, men sucht: en t'allen tijden
Ist vvederom te doen het gene ghy nu doet.
Soo als de sage gaet, gelijck van beyde zyden,
Altijdt in eenen balck, altijdt op eenen voet.
Je ressemble vn Sieur qui sans changer de place,
Tantost trauaille droit & tantost se courbant:
Moi sans sottir du rez ou Cupidon m'enlace,
Je vis or en plaisir & tantost en tourment.

References, across this site, to this page:
No references to this emblem or page found.