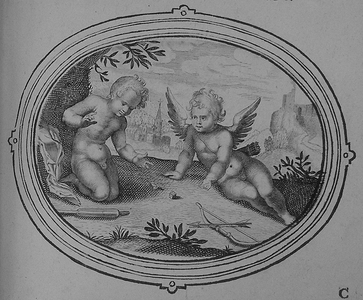 Blanda Cupidineo dum tessera luditur alveo,
Hanc quam sperat Amor, non tibi spondet Hymen.
Siet toch eens Venus kindt, en die sich daer beneven
Gevoecht heeft op der aerdt, een Godt en oock een kindt,
Die Hymen vvordt genaemt: wiens ambacht is te geven
De man zijn soete lief, die hy vvel heeft gesint.
Het is een vvonder vverck : zy dobbelen met steenen,
Of zijt oock vvesen zal, dat zeer onseker is.
Want als ghy meent te zijn seer vast en op de beenen ,
De steen die keert noch om, de saecke gaet noch mis .
Hymen & Cupidon iovent ensemble a la chance,
A qui aura l'honneur de me rendre content:
L'un m'entretient d'espoir, & l'autre d'asseurance,
Mais i'atten que le dévuide leur different.

References, across this site, to this page:
No references to this emblem or page found.