Georgette de Montenay/Anna Roemer Visscher, Cent emblemes chrestiens (c. 1615)

Table of contents ↑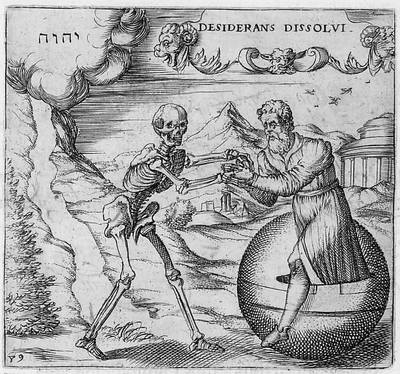 89[a] ↓

Dees man verlangt nae t'geen dat vele Angstich vreesen
stapt uijt de werelt om haest bij syn Godt te weesen
Hij buijcht sich nae de Doot die weet hij dat hem leijt
De wech nae waere Rust, heijl, vruecht, en Salicheijt.
Eyder die maeckt de Doot goet, of quaet, met syn Leven
De vromen vreesen niet. De boosen Sidrich beven
O soete doot! die de Geloovigen verquickt,
O bitter Doot! ghij de godtloosen seer vershrickt

De grand desir d'aller bien tost à Dieu,
Cestuy se void presque sorty du monde:
Crainte de mort en son endroit n'a lieu,
Ainsi qu'elle a au coeur sale & immonde.
La mort n'est plus au chrestien saint & monde
Qu'un doux passage à conduire à la vie
Et vray repos, où toute grace abonde:
Mais charité modere telle envie

89[b] ↓


Translations
| | |
| --- | --- |
| | |
| | |
| --- | --- |
| | |
| | |
| --- | --- |
| | |
It is sweet to die, when the mind free of crimes
Does not cringe in horror from the Judge's verdict.
For it is sweet to be united with Christ and high up
In the kingdom of heaven to look down on the buried body.

References, across this site, to this page:
No references to this emblem or page found.