Georgette de Montenay/Anna Roemer Visscher, Cent emblemes chrestiens (c. 1615)

Table of contents ↑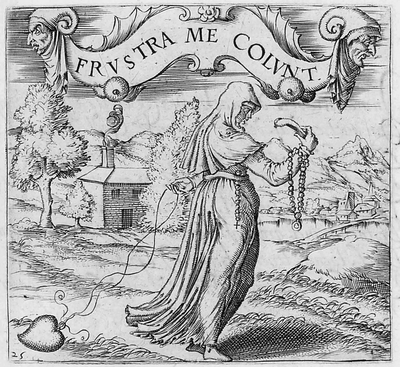 25[a] ↓

De tongh voor inde hant, en t'hert sleept achter bij,
Dits van gheveijnstheyt snoodt de Rechte schilderij.
Haer smeekende ghelaet verleijt met lieflijckheeden,
De slechte mensch, veraest aen haar schynheylicheeden.
Cristus die leert ons, door de schrift, en daar seijt hij:
K'wil gheen dienst van de tongh, oft' hert moet sijn daerbij.
Hoewel den hijpocrijt hem listich soeckt te decken,
Godt die het klaerlijck siet sal met den gecker gecken.

La langue aux mains & le coeur loing derriere,
D'Hypocrisie est la droite peinture,
Elle seduit par sa douce maniere,
Et rit mordant la simple creature.
Or Christ apprent en la saincte escriture
Que rien ne sert la langue sans le coeur,
Dont l'hypocrite a poure couuerture.
Dieu clair-voyant rend moqué le moqueur.

25[b] ↓


Translations
| | |
| --- | --- |
| | |
| | |
| --- | --- |
| | |
| | |
| --- | --- |
| | They honour me without success. |
To no avail will you worship God with your mouth alone:
Unfeigned religion is seated deep in the breast.
Therefore, stop making up lies with deceiving
Tongue, but honour God with sincere heart.

References, across this site, to this page:
No references to this emblem or page found.