Georgette de Montenay/Anna Roemer Visscher, Cent emblemes chrestiens (c. 1615)

Table of contents ↑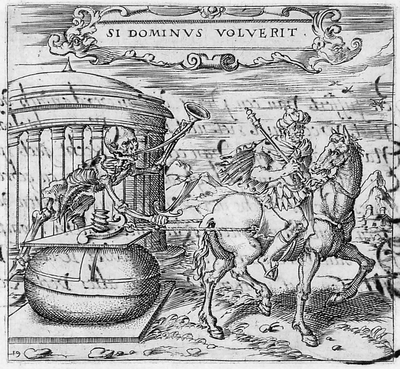 19[a] ↓

Hoe opgheblasen ghij de Weerelt wilt verdrucken
Gheweldighe Tyran, ten sal v niet ghelucken.
Int midden van v lust, alst wel gaet na v sin
Sal D'onverwachte Doot heijmelijck sluijpen in
Snijden u Leeven af. Ghij grooten sijt ghedachtich
Dat een veel grooter heer, u allen is te machtich
Die u voornemen Weet, en Crachticht wederstreeft
En aen Den sijnen Soo, sijn hulp te kennen gheeft.

Cest homme fort prend tout son passetemps,
Et met sa force à ce monde presser.
La mort le trompe, & coupe auant le temps
Tous ses cordeaux, luy faisant tout laisser.
Princes & Rois ont bien dequoy penser
Qu'un roy tresfort & tresiuste est leur maistre,
Qui sait & peut leurs desseins renuerser,
Et son secours aux siens faire cognoistre.

19b ↓


Translations
| | |
| --- | --- |
| | |
| | |
| --- | --- |
| | |
| | |
| --- | --- |
| | |
The knight throws his weight about, pressing down the world with cruel arms.
But death stopped his audacity and took revenge on his abominable deeds.
So the deadly pledges come to nothing for the harsh tyrant,
When God himself raises His hand against him in rage.

References, across this site, to this page:
No references to this emblem or page found.