Georgette de Montenay/Anna Roemer Visscher, Cent emblemes chrestiens (c. 1615)

Table of contents ↑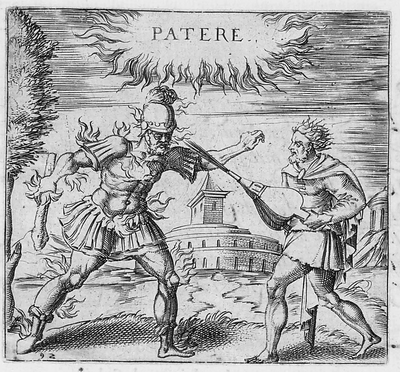 92[a] ↓

Wanneer de sotte Mensch ontsteken is tot quaet,
En brant van gramschap, soo dat hij syn broeder slaet
Aen d'eene wang, sal hij hem d'ander dan toe keeren?
Neen! want dat was maer om sijn toren te vermeeren.
Ghelijck het vier meer brant, en hoger vliecht in top,
Wanneer het door de wint, wert stijf geblaesen op.
Waerme volbrengt men dan dees wet, na Goodts behagen?
Maer datmen Lijdtsaem, en Patientich leert verdragen.

Quand l'homme fol est par ire enflammé
Et vient à tort faire à son frere outrage,
Comment seroit le batu estimé,
De luy bailler à souhait son visage?
Car ce seroit luy accroistre sa rage
Comme le feu en le souflant s'allume.
Que veut donc Christ de luy en ce passage?
Qu'en patience à peine on s'accoustume.

92[b] ↓


Translations
| | |
| --- | --- |
| | |
| | |
| --- | --- |
| | |
| | |
| --- | --- |
| | |
The law orders not to resist, when a madman
Threatens whiplashes with both hands raised.
But bear him: easy-going endurance conquers wrath,
And calms down the swelling of blood and mind.

References, across this site, to this page:
No references to this emblem or page found.