Georgette de Montenay/Anna Roemer Visscher, Cent emblemes chrestiens (c. 1615)

Table of contents ↑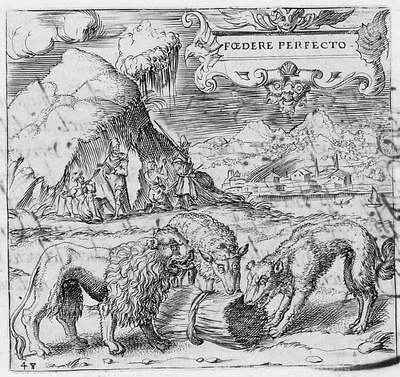 48[a] ↓

T'onnosel Schaep, de wolf, en trotse Leeuw hoochmoedich
Weijden met vrede t'saem. hoe comt de Leeuw so goedich
Die Eertijts was soo fel? O mensch verwondert niet.
T'is Goodes macht. daer door men Wel verenicht siet
Jood, Grieck, Heijden, en Turck, Cristenen met Barbaeren,
Wt alle hoecken sal Cristus sijn volck vergaeren.
De Duijvel is verbaest dat hij hem siet bespot.
T'geen ons onmochlijck dunckt, is moochelijck bij Godt.

Le loup, l'agneau, le lion furieux
Paisiblement repairent tous ensemble.
Le Iuif, le Grec, le doux, le vicieux,
Au vray repas Dieu par Christ tous rassemble:
Au coeur Chrestien estrange point ne semble
Qu'vnis soyons renez par l'Euangile.
D'vn tel accord Satan estonné tremble:
Mais nous sauons qu'à Dieu tout est facile.

48[b] ↓


Translations
| | |
| --- | --- |
| | |
| | |
| --- | --- |
| | |
| | |
| --- | --- |
| | |
How friendly the dog, and how easy-going the lions
Come together with the meek sheep to nip the grass!
This is how matters look when there is concord, when there is
Peace again, and raging division will stop in the whole world.

References, across this site, to this page:
No references to this emblem or page found.