Georgette de Montenay/Anna Roemer Visscher, Cent emblemes chrestiens (c. 1615)

Table of contents ↑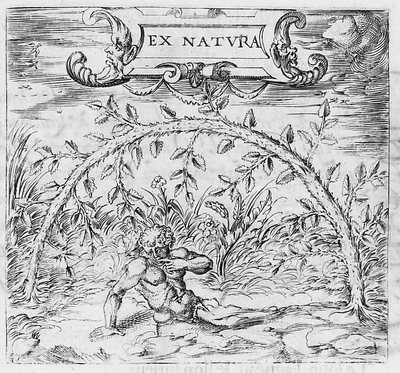 47[a] ↓

De Breem-haech nae sijn aert, eerst weelich wast Recht op
Maer buijcht allensjens weer en Wortelt met sijn top.
De mensch (hoe schoon hij schijnt) is van de aerdt genomen
Hij Rust niet voor hy Weer tot Aerde is ghecomen
Godt geeft ons te verstaen dat al ons levens tijt,
Niet aers is als verdriet en een Ghestaeghe strijt.
Wij moeten Vlijtich, gauw ons swacke geest opwecken
Of door versuijm souw t'vlees haer me nae d'aerde trecken.

Comme la ronce, ensuyuant sa nature,
Va derechef racine en terre prendre,
Tout homme aussi, terrestre creature,
Ne peut de soy plus haut qu'en terre tendre:
Combien que Dieu assez luy face entendre
Que d'icy bas ne vient rien que martyre.
Mais au bien est l'esprit si foible & tendre,
Que la chair forte en bas tousiours le tire.

47[b] ↓


Translations
| | |
| --- | --- |
| | |
| | |
| --- | --- |
| | |
| | |
| --- | --- |
| | |
Born from the ground it looks down to the ground and seeking earthly matters
With all its heart, it does not know how to seek riches in heaven.
Of course, it is like a bramble-bush: for after it has grown upwards
It bends back roots in the ground from its topmost leaves.

References, across this site, to this page:
No references to this emblem or page found.