Georgette de Montenay/Anna Roemer Visscher, Cent emblemes chrestiens (c. 1615)

Table of contents ↑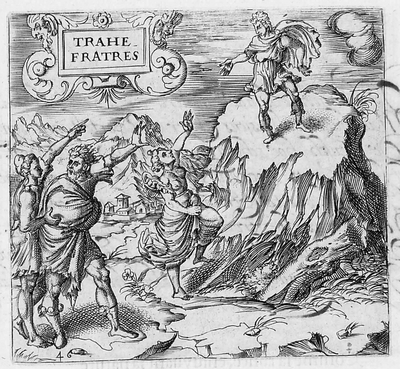 46[a] ↓

Die nu alrede is int hoochste van den top
Wenckt met sijn hant en gheeft haer moet te klimmen op
Den bergh; die sijn om laech. so moetmen onderwijsen
Sijn broeder: en t' Gheloof hem hoochelijck aenprysen.
Ghedenckt dat Cristus ons soo Vriendlijck is en goet
Dat hij ons kinders van sijn Vader werden doet.
Hij straft die weten en D'onwetende niet Leeren
Sijt ghij bekeert? so wilt v broeder oock bekeeren.

Celuy qui a ia monté la montagne,
A ceux qui sont en bas tende la main.
Qui est instruit de Dieu, son frere enseigne.
Coulante soit la foy de main en main.
Souuienne toy que Christ est si humain,
Qu'il nous a faits tous enfans de son pere,
Et qu'il punit le cœur lache inhumain.
Toy conuerty, conferme aussi ton frere.

46[b] ↓


Translations
| | |
| --- | --- |
| | |
| | |
| --- | --- |
| | |
| | |
| --- | --- |
| | Pull along your brethren. |
It is not enough to have climbed over the top of a mountain:
You must put your hand to other things, as deftly as you can.
You cannot find solace in faith, and you will still doubt about your salvation,
When your minds remains firmly fixed by immovable faith.

References, across this site, to this page:
No references to this emblem or page found.