Georgette de Montenay/Anna Roemer Visscher, Cent emblemes chrestiens (c. 1615)

Table of contents ↑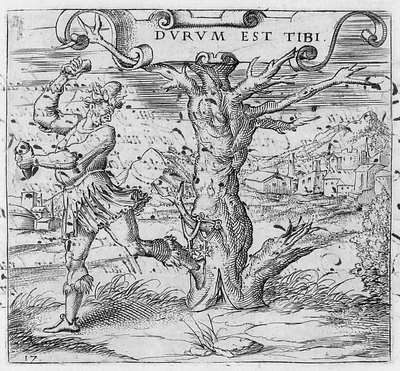 17[a] ↓

Die dul hartneckich stoot tegen de scherpe spooren
quest pijnnelijck hem self. De moeite is verlooren
Van d'onrechtvaerdige, en verdt ist daer van daen
Hoeseer sy woeden, om te moogen houden staen
Haer ketterij. want om gelt, en Eersuchts begeeren
Souden wel tegen Crist het onderst boven keeren
Van D'Eelementen al. maer dits Haer loon, met schant
Werptse Godt Eeuwich in D'onlesschelijcke brant.

Ce regimbeur contre les éperons
Nul tant que luy en ce faisant offense.
Par tel miroir monstrer nous esperons
Combien l'inique est loing de ce qu'il pense.
Pour maintenir ce qui farcit sa panse,
Voudroit troubler tous les quatre elemens
Encontre Christ: mais pour sa recompense
Ne s'est acquis que peines & tormens.

17[b] ↓


Translations
| | |
| --- | --- |
| | |
| | |
| --- | --- |
| | |
| | |
| --- | --- |
| | |
To no avail you have attacked the goads with crazed heel
In your folly, and now you walk away alone with an injured foot.
Nor will it be to your profit, mongers of crime, to arm yourself
Against God. For he will badly destroy your riches.

References, across this site, to this page:
No references to this emblem or page found.