Georgette de Montenay/Anna Roemer Visscher, Cent emblemes chrestiens (c. 1615)

Table of contents ↑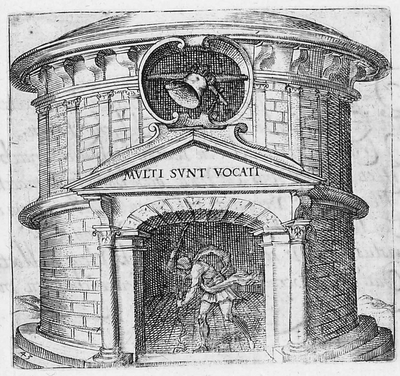 43[a] ↓

Dees klock Roept overluijt, Coomt altemael te kercken
Een Weijnich coomter maer. niet Door nodige wercken
Verlet. neen! maer onnodich slof en traech wtstel
Denckt nu mach Ick niet gaen morgen koom icker wel.
Cristus Roept, komt tot mijn; Al die begeert te leven:
Wat daer toe is Van noodt sal ick om niet v geven
Wt mijn Ghenaeden-vloet schept Coever en de vult
Als wij niet komen Dan ist niet ons eijghen schult?

Tous appelez sont bien par ceste cloche,
Et toutesfois n'y vont tous qu'elle appelle.
Ce n'est raison poutant qu'elle ayt reproche:
Car elle fait tout ce qui est en elle.
L'Euangile est de condition telle,
Qui à salut tout le monde conuie:
Mais nul ne veut paruenir iusqu'à elle,
Fors ceux que Dieu a choisis à la vie.

43[b] ↓


Translations
| | |
| --- | --- |
| | |
| | |
| --- | --- |
| | |
| | |
| --- | --- |
| | |
The herald strikes the bronze, and by the beating summons
All to convene, but he is not to blame if anyone declines to attend.
So, when God makes his eternal oracles known,
Whoever plays deaf hurts himself by his own deceit.

References, across this site, to this page:
No references to this emblem or page found.